Oracle OpenWorld
From Oracle FAQ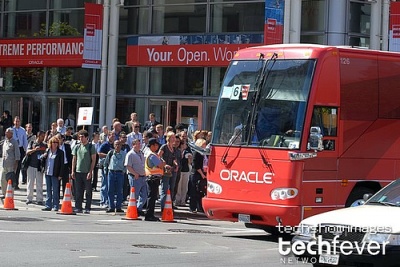 Oracle OpenWorld (OOW) is an annual Oracle conference event for business decision-makers, IT management, and line of business end users. It is held in major cities around the world, with its main conference being held in the USA (normally close to Oracle's HQ).
[edit]
The 2008 conference
The Oracle OpenWorld 2008 conference was held from 21 to 25 September in the Moscone Centre, San Francisco, California, USA.
[edit]
Major announcements
[edit]
The 2007 conference
The 2007 OpenWorld Conference was held in the Moscone Center, San Fransisco from November 11-15, 2007.
The 2007 conference, for the first time, featured an unconference. An unconference is a conference organized, structured and led by the people attending it. Instead of passive listening, all attendees are encouraged to present and ask questions.
[edit]
Major announcements
Optimzed Warehouse for SUN - warehouse in a box (Oracle Enterprise Edition + Partitioning + RAC) - sized for 10TB of data
Availability of the Oracle 11g database on most popular platforms, including Solaris, AIX and HP-UX
Oracle Process Integration Packs (PIP) - integrations across Oracle ERP, CRM and industry applications
Oracle Enterprise Manager 11g beta
[edit]
Also see
[edit]
The 2006 conference
October 22 - 26, 2006
Moscone Center, San Francisco, CA USA
Major Announcements
[edit]
The 2005 conference
September 17 - 22, 2005
Moscone Center, San Francisco, CA USA
[edit]
History
Almost 500 Oracle users gathered in San Francisco in 1986 for the first International Oracle Users Week (IOUW) conference. IOUW attendance continued to grow throughout the years. Oracle saw this as an opportunity to create even more marketing sessions to further increase growth. In 1996 Oracle announced that starting in 1997, it would take control of the user conference and call it Oracle OpenWorld.
[edit]
External links