Oracle Enterprise Linux
From Oracle FAQ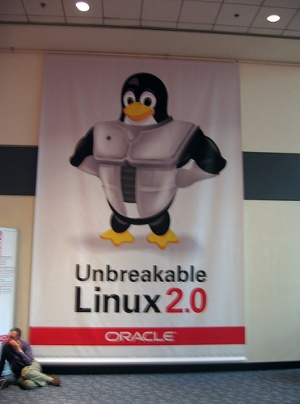 Oracle Enterprise Linux (OEL) is Oracle's Linux distribution. OEL is based on Red Hat Enterprise Linux and is binary compatible with Red Hat (not a fork!).
Oracle supports OEL itself through its Oracle Unbreakable Linux program. This support program is designed to compete directly with Red Hat's support offering.
[edit]
History
Oracle's Linux commitment began in 1998 by offering commercial support for the Oracle Database on Linux. On 25 October 2006 they announced their intention to offer direct Linux support.
[edit]
Benefits
OEL provides the following benefits:
Oracle products are well tested to work on OEL
Single vendor - eliminate finger pointing when trouble strikes
Single order - more convenient and bigger discounts from Oracle
Easier - single command to get all RPM prereqs for Oracle products ($ up2date oracle-validated)
Compared to Red Hat
OEL support is cheaper than that of Red Hat
OEL is 100% compatible with Red Hat Linux
[edit]
Support offering
The following support offering are available:
Network support - software, including patches
Basic support - 24x7 global support, complete Linux server lifecycle management
Premier support - 24x7 global support, complete Linux server lifecycle management, back ports, and Oracle Lifetime support
[edit]
Also see
[edit]
External links